People are writing about us

"National Book Award Goes to Phil Klay for His Short Story Collection" (November 19, 2014)
Hunter MFA alum Phil Klay (fiction, 2011) wins the 2014 National Book Award for Fiction.

BBC News feature on the Hunter MFA (November 18, 2014)
"National Book Awards: Peter Carey and Colum McCann nurture young writers"

"The digital age may be wreaking havoc in the publishing world but at New York's Hunter College the passion for storytelling and the written word remains undimmed.

"One of the writers [alum Phil Klay, fiction 2011] from [Hunter] college's prestigious [MFA] writing programme is a nominee for the National Book Award prize which will be awarded on Wednesday evening.

"Led by the celebrated novelists Peter Carey and Colum McCann, it is widely acknowledged as one of the best in the country. Carey has won the Man Booker Prize twice and Colum McCann is a recipient of the National Book Award.

"From inside Hunter's writers' room, Michael Maher reports."



Village Voice: Best of New York 2007 (October 17, 2007)
Best MFA Writing Program - Hunter College
"If you're considering an MFA in writing, you either don't love money or don't need to worry about it. Those of the latter stripe can cope with Columbia's $50K price tag. The bargain seekers who can't leave NYC should gravitate to Hunter College: In addition to a financial-aid package the school describes as "better than free," at least one student a year gets a free ride, and most get help—often in the form of an apprenticeship with an author or publisher and/or teaching. Playwriting is handled separately by Hunter's theater department, leaving the writing program free to inaugurate an MFA in memoir writing, one of only a handful in existence. Hunter also sports an accomplished yet diva-free faculty—the chair is Aussie novelist Peter Carey. Translation: The stars won't be on academic leave or a book tour; you may get to work with them. Bigger names show for their intimate, free reading series: Annie Proulx visited October 4, Robert Pinsky shows up October 25. Grads include Absurdistan author Gary Shteyngart, who got into Columbia, too—as an associate professor."

(May 28, 2007)
A New York Writer's Catch-22
Peter Carey writes on the state of MFA programs in New York City. "Of all the things I do at Hunter, this seems to me almost the most important: to close that huge lonely gap between the kitchen table and the world of literature..."
(May 28, 2007)
'American Idol' Gets Literary
"New York [Magazine] brings you Literary Idol, where writing teachers single out the star novelists of tomorrow and you get to vote for the best ones online."

Writer's Digest (July 22, 2008)
Up Close & Personal
In New York, both Columbia University's MFA and the new Hunter College MFA programs have formalized these positions with the Hertog Fellowship, which pairs a handful of students with writers like Nathan Englander (author of The Ministry of Special Cases) for a semester of research....
These associations with authors rarely lead in a straight line to publication. Nevertheless, many assistants stay on the literary path one way or another, and many credit their time as assistants with showing them the way...
"There are these people who exist out in the ether, whose names are on these books you love, and next thing you know you're sitting in their kitchen, having coffee, talking about the things you're scribbling on alone in your apartment," says Sara Nelson, a Hunter College MFA student who spent a semester as a Hertog fellow working for Kathryn Harrison. "You see that they have their own struggles with their own work—that the struggles are part of the process."

Sydney Morning Herald (January 19, 2008)
The Many Lives of Peter Carey
A chilly evening at Hunter College, a small tertiary institution on Manhattan's Upper East Side where Carey has taught for the past four years. He is the executive director of the master of fine arts in creative writing degree, and his Tuesday evenings are spend in this small room, 4E, deep in the labyrinthine maze of buildings, under the glare of flourescent lights, talking about words, their heft and weight, colour and shape. I'm intrigued to see a different Carey from the slightly wary, cautious man of the day before: here, he is passionate and unguarded, a surprisingly natural teacher, eyes bright and alive as he leads a discussion on everything from the intimate nature of torture to the art of pinning down words ("wild, curly things") on the page.
In full flight, he comes across as some sort of benevolent car mechanic, constantly fixing leaks and holes, welding fissures and cracks, turning engines (after a lively discussion on logic and plot development, he actually turns to one student: "Gabe, are you going to buy this car?"). His students listen intently. Many of those at Hunter are the first in their families to even go to college, he tells me, cradling a cup of coffee before class, as we watch a stream of students in saris and salwar kameez and Sikh turbans and Rastafarian dreadlocks go by. He feels kinship with them, he says - like him, they come from the periphery, bearing stories mostly unknown to the wider world, and this is one of the joys of teaching here, to help them with their fragile cargo of unwritten tales.
He's pleased that one of his cheif ambitions for the college - to get some of his literary friends involved - has borne fruit. As part of an upcoming distinguished writers' series, Annie Proulx, Kathryn Harrison and Robert Pinksy will give readings. His students are taught his own secret to writing - endless revision and rigorous editing; he shows me a page of work from a student heavily scrawled with his comments. Over the years he's also helped them in more prosaic ways, landing them research assistant jobs with the likes of Jonathan Franzen and Toni Morrison. "They're all incredibly smart," he says, beaming, a proud daddy again.
(This article is reprinted with the permission of Good Weekend Magazine.)

Elle Magazine (December, 2008)
Writer's Colony: The Piano Teacher by Janice Lee is a first-class ticket to a disappearing Hong Kong
(Profile of Janice Lee, Hunter MFA graduate: Fiction 2002)
After working her way up to book editor, she quit, afraid she'd never write her own novel while steeped in other people's, and got an MFA under the tutelage of Chang-Rae Lee at Hunter College. "There were many years where you're just working, working, working and nothing happens," Lee says.
Pen's Eye View.com (August 5, 2008)
Geronimo Madrid: What Happens When Imagination Meets Passion
Featured interview with Hunter MFA grad Geronimo Madrid (Fiction 2006).

CUNY Newswire (June 3, 2008)
Hunter MFA Student Wins Javits Fellowship
Tennessee Jones, a first-year student in Hunter's MFA Program in Creative Writing, has been awarded a Jacob K. Javits Fellowship from the U.S. Department of Education.
The Javits Fellowships are given to a select group of graduate students around the country based on their achievements, exceptional promise and financial need. In addition to a stipend, the students receive funds covering tuition and related fees for a year, renewable annually for up to three additional years.
Jones — who grew up without running water in a poor area of the Appalachian Mountains in East Tennessee — has published a book of short stories, Deliver Me From Nowhere (2005), which was praised in the New York Times Book Review; produced self-published magazines for several years; and worked as an editor for an independent publisher before joining the Hunter MFA program. He graduated magna cum laude from Hunter with a CUNY BA.
The Enchantress of Florence: A Novel by Salman Rushdie (May 27, 2008; Random House), Acknowledgements, p.359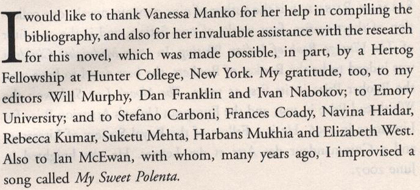 [Vanessa Manko is a Hunter MFA grad (Fiction 2008). Here's more info on the Hertog Fellowship.]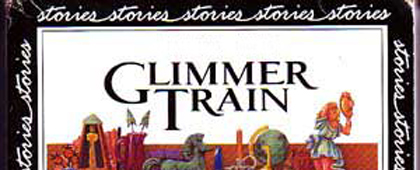 Glimmer Train's Spring 2008 Short-Story Award For New Writers (May 1, 2008)
Top 25 Winners And Finalists
Hunter MFA grad Matthew Mercier (Fiction 2007) wins second place in the Glimmer Train 2008 Short-Story Award for New Writers, with his story "Valentine Ave."

Canadian National Post (February 6, 2008)
Home, Home on the Commune
As a two-time Booker Prize winner and the executive director of the MFA in Creative Writing at Manhattan's Hunter College, Peter Carey, one would think, must have the art of writing literary fiction down to a science.
It's rather disarming, then, to hear him admit that writers are "sort of permitted to do things intuitively without suggesting stupidity." In the classes that he teaches, he says, "We don't talk about my work, which would be embarrassing for me."...
Students discussing each others' work under Carey's guidance will often run across a character "who's done something in this work that's illogical or not quite possible, and they will all start to say, 'That's ridiculous.' I always say, 'Don't say that, because [the character] really wants to do this thing. Trust their desire, and let's see how that could be made credible.'"

The Times of London (February 1, 2008)
Carey Talks About Prose, Politics, and His Passion for Australia
For some years [Peter Carey] has been at Hunter College as director of the MFA Programme in Creative Writing.
Read recent pieces about Martin Amis's supposedly exaggerated salary for doing the same at Manchester University and you could be forgiven for thinking the whole thing a con; or anyway, a business proposition, a way for students to "make it" in the writing game. Carey shrugs; he takes what he does seriously, but is realistic about what he can achieve with his 12 students - chosen from a couple of hundred applicants.
"I tell them to forget about the business. That's nothing to do with me. I used to be slick at talking about this, but as I've started to enjoy it more, I'm not slick at it. First, I think it saves people time - a couple of years, three years. They'll figure it out in the end. If they haven't got talent, you're not going to give it to them, but they will have it because you've chosen them.
"But they might turn out to not have will; which you can't always judge very easily at the beginning. If they don't have will, they're screwed. But you can't make them write every day or get up early in the morning; you can give them an example, or tell them what they should be doing, and they might listen."
The students line-edit each other's stories; they analyse other writers - recently Edith Wharton and W.G. Sebald. Carey once asked them to keep a weather diary: it's a way of making writers, who tend to be, in his words, self-obsessed, look out at the world.

The Australian (January 26, 2008)
Home Thoughts From Abroad

After four years as director, [Peter Carey] is now executive director of Hunter College's master of fine arts writing program, arguably the cheapest way of obtaining a writing degree in Manhattan, and now one of the best.
"This is the first time I have taken something like this on," Carey says. "I took it on because I could make something and I didn't see why the university couldn't be the best MFA program in the city."
Joining a school such as this in an age when privileged schools have a great advantage is almost a statement of political solidarity with working-class students.
Hunter is a state-run institution where an MFA costs about $US10,000 ($11,400); at an Ivy League university such as Columbia, it would cost four times as much. Nor is it a glamorous place like the New School in Greenwich Village. "Many of the students are older," Carey explains. "They are the first generation in their families to go to college, and they often have other jobs." Many of them are not white.
However, "we have taken this thing and turned it around in four years", Carey adds, leaning forward in a rocking motion, his verbal hydraulics pumped up by the innate gusto of a born turnaround man. He describes how he has lassoed writers out of prior teaching commitments, coaxed money from sceptical patrons and convinced smart students they needn't take on $US60,000 in debt to get a good education. "And today the students are amazing."
Carey has bent over backwards to provide for them, bringing in some of the world's best writers, from Annie Proulx and Ian McEwan to Michael Ondaatje, setting up a mentoring program that pairs faculty (such as memoirist Kathryn Harrison and novelist Jennifer Egan) with students, so the students don't just get instruction but can experience at first hand how a writer works. He has helped several of them get jobs elsewhere.
The results are paying off. In recent years several of his students have received book deals. They include Jeffrey Rotter, author of a forthcoming novel called The Known Unknowns, "a story about life in America during the terrorism years".
Now that he has rejuvenated Hunter, Carey isn't going to rest. In fact, from 8am to 1pm every day, he has been working on a new book, using one of the Hunter College fellows as a crack research assistant. "This guy is tremendous, he will print out floor plans of old castles, and find out exactly the distance from one place to another," he says.



(March 1, 2005)
A New Day at Hunter: Peter Carey
"Peter Carey, two-time winner of the Booker Prize, recently took over the MFA program in poetry, fiction, and [memoir] at Hunter College. The Rail's James McCloskey spoke to Carey about his plans for the program."

"...there were so many first and second-generation immigration stories in that room and I could engage with these issues in ways that probably surprised my students. As an Australian I have tended to be obsessed by issues of colonialism, imperialism, the center and the periphery, and these were often the concerns of my students. This was a big deal for me. As an Australian you always feel very peripheral in the life of New York City. After fourteen years here, this was the first time I felt so connected."

(September 5, 2003)
Carey Takes Helm of Hunter College's Writing Program
"No humdrum here: His tenure as head of Hunter College's writing program will not be dull, promises Peter Carey..."