Academic Probation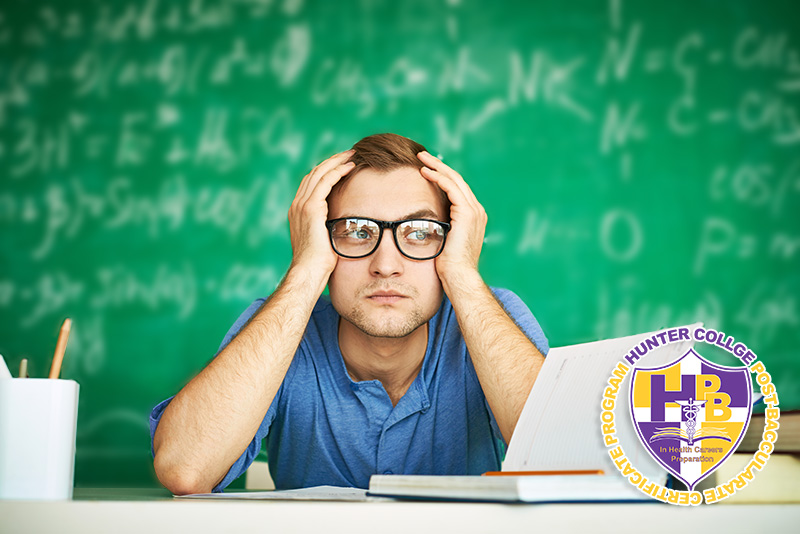 At the end of the semester, the Pre-Health Committee reviews the academic standing of our post baccstudents. Recognizing the competitiveness of admission to doctoral programs in any of the health-related fields, a grade point average below 3.3 jeopardizes your ability to compete in the very large pool of applicants.
Students who have earned a term or overall grade point average below 3.3 are placed on academic probation with our department for one semester. If you rehabilitate your GPA, you will be eligible for all of the benefits associated with the Pre-Health Program. In the event that you do not improve your GPA and standing within the department, you will be asked to change your major; you will no longer receive early registration eligibility, and you will not be eligible for Committee Letter support.
WHAT DOES DEPARTMENTAL ACADEMIC PROBATION MEAN?
Students in the Post Baccalaureate Pre-Health Program must maintain a current term and overall grade point average (GPA) of 3.3. Grades below B are unacceptable. You have one semester to bring up both GPAs.
You are on Academic Probation for any of the following:
Your Grade Point Average for the term or overall is below 3.3.
If you earn a grade below B and you do not achieve a 3.3 or above term or cumulative GPA, you are not in good standing with this program and considered on Departmental Academic Probation.
To continue in the program and earn Committee support, only one grade of B- with an overall GPA of 3.5 is acceptable during your tenure in the program.
A grade of NC is comparable to a grade of F. If you receive a grade of NC and a term or overall GPA below 3.3, you will be removed from the Post Bacc Pre-Health Program, and are required to change your major.
You cannot earn multiple grades of B- or below in addition to a grade of CR, NC, INC, or W in the same semester.
All INC grades must convert to a final grade of B or above in the semester following the grade of INC. There is no exception; the subject department cannot exempt you from this departmental rule.
You cannot totally withdraw from classes while on Academic Probation.
A grade of NC means that the course must be repeated the following semester. To remain in the program, you must earn a replacement grade of A or A-. Any replacement grade below A- is unacceptable and you may be ineligible to receive a Committee Letter.
HOW DO I RETURN TO DEPARTMENTAL GOOD STANDING?
Probation means that we understand that you may need time to rectify your standing. We will review your transcript at the end of the semester following probation to determine if your term and overall grade point average have risen to 3.3, or above. You may have only one semester of probation in this program. A term and overall GPA of 3.5 is required to be eligible for a Committee Letter.
To assist you, you must meet the following:
You must meet with your advisor, face-to-face, within two weeks of receiving email notification of probation.
In addition, you must meet with your advisor a second time, face-to-face, no later than the seventh meeting of your science classes.
You may not drop any of your classes, nor can you take a grade of below B, or a grade of W, INC, or Credit/No Credit.
Your overall and term grade point average for the semester following probation notification and for all subsequent semesters must meet the 3.3 grade point average, along with the caveats mentioned above.
By the end of your final term in the program, you must meet the 3.5 GPA minimum to receive a Committee Letter. A 3.3 GPA means you will receive a Letter Packet.
HOW CAN PRE-HEALTH ADVISING HELP?
Please reach out to your advisor. We are here to help you succeed. We believe that your success is our success.
Take advantage the Pre-Health and Hunter College resources listed on the website, particularly tutoring services.
Attend the Pre-Health workshops. They are invaluable.
Join the Pos tbacc Pre-Health Club. Get a Study Buddy. Join a study group.
HOW DOES THIS ACADEMIC ACTION APPEAR ON MY TRANSCRIPT?
This action is department-specific and does not appear on your transcript.
As long as you maintain the Hunter College minimum grade point average, your transcript will reflect "good standing."
WILL DEPARTMENTAL ACADEMIC PROBATION AFFECT MY EARLY REGISTRATION?
This probation does not affect your registration for the semester following this notification. However, once removed from the Post Bacc Pre-Health Certificate Program, and if you choose to stay at Hunter and apply without our support, you will register with the general undergraduate population according to the Hunter College registration rules and regulations.
OPTIONS:
You can opt to apply to a health professions school on your own. If you use a dossier service, the Pre-Health office will upload any letters of recommendation that we have on file to your dossier.
Document Actions