Information for Current Post Baccalaureate Students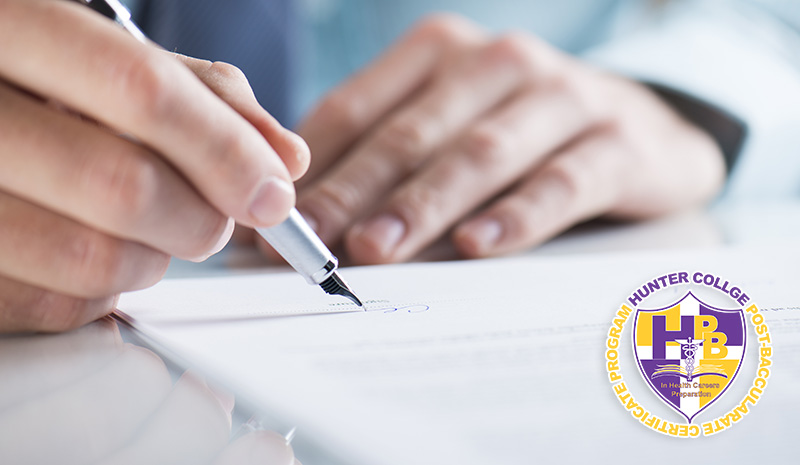 Requirements for Post Baccalaureate Students
To complete the Post Baccalaureate Program all students must:
Complete a year of college level writing and English. This requirement can be fulfilled by undergraduate transfer credit and/or by taking courses at Hunter.

Complete one year of Mathematics BEYOND Pre-Calculus. This requirement can be fulfilled by undergraduate transfer credit and/or by taking courses at Hunter. There are two ways to fulfill this requirement at Hunter:
MATH 150 (Calculus I) or MATH 155 (Calculus II)

and STAT 213 (Statistics)

MATH 150 (Calculus I) and STAT 213 (STAT 113 does not fulfill this requirement)
Enroll in 2 science classes per semester.

Complete 38 credits in science courses (Biology, Chemistry & Physics) at Hunter College within 36 months.

Maintain a 3.5 GPA for every semester in the program with no individual course grade below B.

Provide 56 hours of service to the Hunter College Community during your time in the program. Please note that this service requirement must be completed in order for a Pre-Health Committee Letter to be submitted on your behalf.

Obtain a

Committee Letter

·
Please note that grades of B or better must be earned for all courses required by medical, dental or veterinary schools. This includes all required courses completed at another undergraduate institution. Any courses taken previously with grades lower than a B must be repeated at Hunter in order to satisfy the requirements of the Program.
·
Stay Connected
Stay connected with other students in the Post Baccaulareate Program at Hunter, join our Facebook Group.
You will get information regarding coursework, professors, textbooks, and social events.
·
Blackboard
All students who are in the Post Baccalaureate Program should have access to a group under My Organizations on Blackboard called Post Baccalaureate Program. Here, students enrolled in the Post Bacc program will find information about service hours, special events and other pertinent details.
If you are a part of the Post Baccalaureate Program and you do not have access to this Blackboard site, please e-mail kj172@hunter.cuny.edu, include your full name and Hunter e-mail address in the body of the message.
Document Actions