Already Submitted an Application?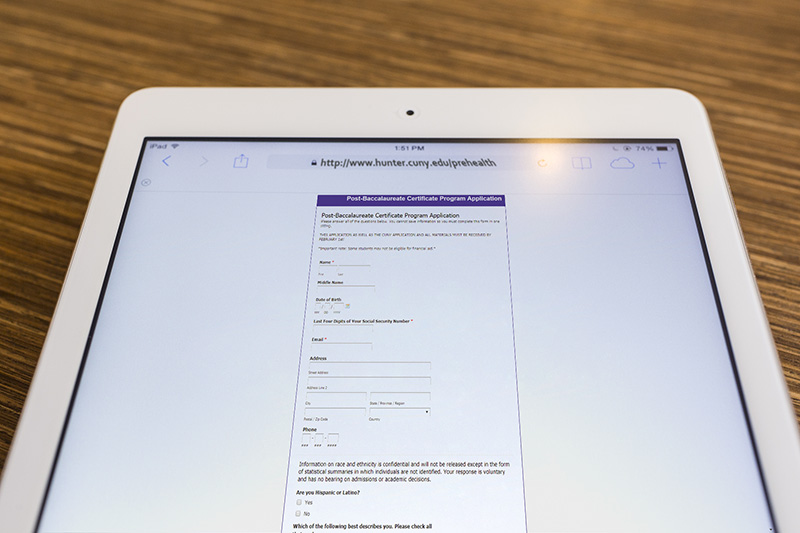 Congratulations! You have taken the first step in pursuing your future medical career. Please come back to this site often for admissions updates!
Decisions are communicated between April 15th and June 30th.

Please remember that your application to CUNY Hunter and your application to the Post Baccalaureate Certificate Program are separate procedures that are reviewed by different committees.
Please ensure that all of your transcripts, including high school, undergraduate, and gradiuate transcripts, and other documents are submitted to the CUNY UAPC, and uploaded to the Post-Bacc supplemental application by February 1st.


Do not contact the Hunter College Pre-Health Advising Office with questions about CUNY application status or the receipt of supporting documents. We cannot help you as we do not handle the CUNY application. Use the contact information provided at the link above for assistance

Once you submit the supplemental application, you will receive a confirmation message. You do not need to e-mail the Pre-Health Advising Office to confirm receipt.
No Post-Bacc decisions can be given by the Pre-Health office via telephone or email.
All decisions are communicated via Hunter College's Admissions Office.
No explanation of Post-Bacc program decisions are given. All Post-Bacc decisions are final.
Part III: Interviews and Letters of Recommendation
The Admissions Committee may request an interview and/or letters of recommendation from applicants. Any updates regarding this part of the application process will be listed on this page. Any contact with applicants will be made via e-mail. So please ensure that you provide a correct e-mail address on your supplemental application and check this website and your e-mail often.
Please check back often for updates regarding the application process. Any important announcements will be posted on this page.
Reminders:
The Post-Baccalaureate Certificate Program is for students pursuing careers in medicine, dentistry, optometry, osteopathy, veterinary medicine, and podiatry. The program is not for students interested in pharmacy, physician assistant studies, physical therapy, speech pathology, occupational therapy or nursing.
Only students with a conferred a baccalaureate degree will be considered for admission to the Post-Baccalaureate Certificate Program at Hunter College. Students with undergraduate degrees still in progress are not eligible to apply. No online degrees will be accepted.
If you do not intend to matriculate in the semester for which you are applying, please consider delaying your application. Deferrals are only granted under extenuating circumstances and for only one semester. Anyone wishing to defer for more than one semester will have to reapply.


Document Actions