Peasants' Rights Project: Our research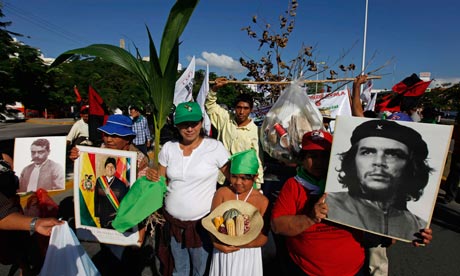 The Peasants' Rights Research Project analyzes one contemporary case in the long historical expansion of international human rights norms, the campaign of transnational agrarian social movements, notably Vía Campesina, to have the United Nations implement an international declaration, and eventually a binding convention, on the rights of peasants and other people working in rural areas. The draft Peasants' Rights Declaration- first presented at a Vía Campesina conference in Jakarta, Indonesia in 2002 and substantially revised in 2008- enumerates a bundle of rights, many of which were already part of existing UN conventions. Other rights enumerated in the peasants' rights draft, however, are indicative of an effort to push existing norms beyond their current bounds, such as claims of a "right to reject" intellectual property of crop genetic material or demands for participation in international economic policymaking processes. The authors of the draft declaration sought to achieve these objectives in part through asserting that peasants, like native peoples, were a vulnerable group, with culturally specific characteristics and practices that deserved international recognition and protection. Subsequently working groups of the UN Human Rights Council have debated revised drafts of the declaration that received substantial input from member states and civil society activists, including those from transnational organizations of fisherfolk, pastoralists and nomadic peoples. The research analyzes the origins, development, and current activities of the campaign, as well as the its impact on the civil society networks of which it is a part and on agenda-setting processes, discourses about rights and development, and public-private partnerships within the UN system. The project is also concerned with gaps in the protection of peasants' rights, such as those involving seeds and land and territory.
The Peasants' Rights Project is employing documentary research, key informant interviews, and participant observation in a variety of venues (e.g., peasant organization activities; civil society and NGO meetings and events; and discussions in UN bodies and agencies). The Project intends to disseminate its findings to both scholarly and activist communities interested in human rights, development alternatives, and the rural world.
The Project draws on and will contribute to three bodies of anthropological and social scientific scholarship: (1) the study of collective action and especially transnational agrarian movements; (2) the anthropology of human rights and rights-claiming processes in particular; and (3) research on public-private partnerships between global governance institutions, such as UN agencies, and non-state, civil society actors. It will provide a window onto transnational processes of development and diffusion of new ideas about rights, in a sector of the world population that is vast and whose new rights claims have still not been studied.
The Project has been supported by grants to Marc Edelman (PI) from the U.S. National Science Foundation's Cultural Anthropology and Law & Social Science Programs (#1024017 in 2010-2013 and #1358143 in 2014-2018) and from the PSC-CUNY Awards Program (#66785-00 44 ENHC-44-72 in 2013-2014).
Document Actions