Hunter College Central Reservations
Hunter College is located on the Upper East Side of Manhattan with convenient access from any New York City borough on subway and bus routes.
For specific information on any of the rooms listed below, please contact the office of Central Reservations at Phone number: 212-772-4872 or e-mail: central.reservations@hunter.cuny.edu . We will be happy to provide you with a tour of our facilities along with rates and information. Liability insurance is required for all outside organizations.
General Terms and Conditions
Your request for space is filled on a first-come, first-served basis. We will try to honor requests for a special facility, but will always reserve the most appropriate space for your event. Hunter College reserves the right to move your event to another location, if deemed necessary.
Reservation requests for a future semester may not be honored until the class schedule for that semester is complete.
Please note that Central Reservation policies apply when utilizing any space at Hunter College. If you are authorized to submit request online, you are responsible for connecting with Central Reservation to ensure all the proper paperwork (if any) is submitted. Failure to submit the proper documents may result in the cancellation of the reservation and the requested space may be allocated to another party. You will be liable for booking an event that doesn't meet the Terms and Conditions of Central Reservations policies.
If you have any questions regarding Central Reservation policies, please contact the Office of Central Reservations at Phone number: 212-772-4872 or e-mail: central.reservations@hunter.cuny.edu
---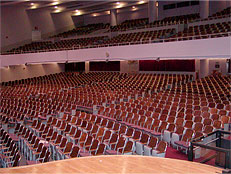 Hunter College 68th Street Campus
695 Park Avenue
New York, NY 10065
| | | |
| --- | --- | --- |
| Space | Building | Capacity |
| Auditorium | North 1st Floor | 2079 |
| Lecture Halls - HW415 | West 4th Floor | 100 |
| Lecture Halls - HW511 | West 5th Floor | 100 |
| Lecture Halls - HW615 | West 6th Floor | 275 |
| Lecture Halls - HW714 | West 7th Floor | 275 |
| Classrooms | North, West and Thomas Hunter | 25-90 |
| Faculty/Staff Dining Room | West 8th Floor | 260 |
| Cafeteria - Main Student Café | West 3rd Floor | 300 |
| Cafeteria - North Cafeteria | West 3rd Floor | 100 |
| Lobby | West 1st Floor | 300 |
---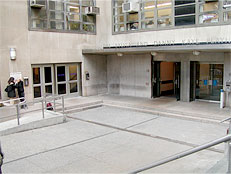 Hunter College Brookdale Campus
425 East 25th Street
New York, NY 10010
| | | |
| --- | --- | --- |
| Space | Building | Capacity |
| Auditorium | 1st Floor | 848 |
| Rotunda | 1st Floor | 600 |
| Amphitheaters - W218 West | 1st Floor | 120 |
| Amphitheaters - W232 West | West | 100 |
| Amphitheaters - W235 West | West | 100 |
| Amphitheaters - W235 West | West | 100 |
| Classrooms | East | 40-60 |
---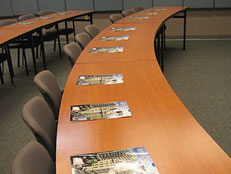 Hunter College Campus Schools
94th Street & Park Avenue
| | | |
| --- | --- | --- |
| Space | Building | Capacity |
| Auditorium | 2nd Floor | 450 |
| Classrooms | 2nd, 3rd, 4th Floors | 25 |
---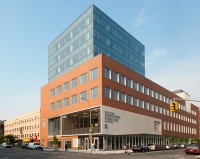 The Silberman School of Social Work
2180 Third Avenue (at 119th Street)
New York, NY 10035
| | | |
| --- | --- | --- |
| Space | Floor | Capacity |
| Large Lobby | Lobby | |
| Small Lobby | Lobby | |
| Student Lounges 1 and 2 | 2nd Floor | |
| Terrace | 2nd Floor | |
| Gallery | 1st Floor | |
| Faculty Lounge | 4th Floor | |
| Auditorium Lounge | 2nd Floor | |
| Auditorium | 2nd Floor | 153 |
| Classrooms | 1st, 2nd, 3rd Floors | 23-71 |
| Distance Learning Rooms | 2nd Floor | 20-55 |
| Conference Rooms | 3rd, 4th, 5th, 6th, 7th, 8th Floors | 8-16 |
Document Actions