Hunter College Central Reservations & Events
Host your next event at Hunter College. Meetings, conferences, retreats, social events, concerts, dance theatrical performances or athletic activities. We have a venue for your next event.
Our Main Campus is conveniently located on the Upper East Side, easily accessible by public transportation. For events large or small, corporate or private, the campus is outfitted with small meeting rooms to an expansive auditorium with spaces ranging in capacity from 15 to 2040.
For special occasions, our newly renovated indoor/outdoor Rooftop Terrace and Dining Hall overlooking the Manhattan skyline provides a memorable setting for a distinctive event.
Our historic townhouse, Roosevelt House, is steeped with history and is steps away from the Main Campus. It is a prime location for lectures, retreats, and social functions.
Our East Harlem campus is a modern, environmentally friendly and technologically advanced building with plenty of bright light and furnishings. It's an inviting setting for meetings, conferences, and receptions.
Reserving Space Online at Hunter College
Below you will find documentation which will provide a complete overview of how to reserve space at Hunter College. Please check back periodically for further information.
Training Quick Guides:
External Client Event Request Quick Guide

Required Form for Faculty/Staff Reservations: The following form must be signed/approved and uploaded to your online reservation request (Signatures must be included for the request to be processed).
Faculty/Staff Reservations- Faculty/Staff Reservation Form

Required Forms for Student Film Shoots:

Student Film Shoot Application- Student Film Shoot Application

If you have any questions regarding Special Reservations policies, please contact the Office of Central Reservations & Events at Email: central7@hunter.cuny.edu.
---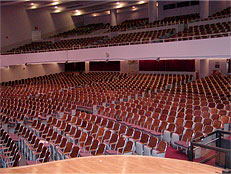 Hunter College 68th Street Campus
695 Park Avenue
New York, NY 10065
| | | |
| --- | --- | --- |
| Space | Building | Capacity |
| Auditorium | North 1st Floor | 2079 |
| Lecture Halls - HW415 | West 4th Floor | 100 |
| Lecture Halls - HW511 | West 5th Floor | 100 |
| Lecture Halls - HW615 | West 6th Floor | 275 |
| Lecture Halls - HW714 | West 7th Floor | 275 |
| Classrooms | North, West and Thomas Hunter | 25-90 |
| Faculty/Staff Dining Room | West 8th Floor | 260 |
| Cafeteria - Main Student Café | West 3rd Floor | 300 |
| Cafeteria - North Cafeteria | West 3rd Floor | 100 |
| Lobby | West 1st Floor | 300 |
---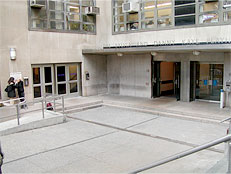 Hunter College Brookdale Campus
425 East 25th Street
New York, NY 10010
| | | |
| --- | --- | --- |
| Space | Building | Capacity |
| Auditorium | 1st Floor | 848 |
| Rotunda | 1st Floor | 600 |
| Amphitheaters - W218 West | 1st Floor | 120 |
| Amphitheaters - W232 West | West | 100 |
| Amphitheaters - W235 West | West | 100 |
| Amphitheaters - W235 West | West | 100 |
| Classrooms | East | 40-60 |
---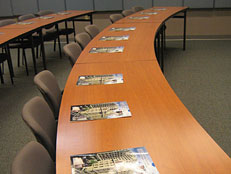 Hunter College Campus Schools
94th Street & Park Avenue
| | | |
| --- | --- | --- |
| Space | Building | Capacity |
| Auditorium | 2nd Floor | 450 |
| Classrooms | 2nd, 3rd, 4th Floors | 25 |
---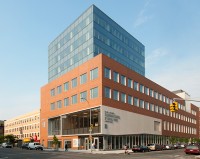 The Silberman School of Social Work
2180 Third Avenue (at 119th Street)
New York, NY 10035
| | | |
| --- | --- | --- |
| Space | Floor | Capacity |
| Large Lobby | Lobby | |
| Small Lobby | Lobby | |
| Student Lounges 1 and 2 | 2nd Floor | |
| Terrace | 2nd Floor | |
| Gallery | 1st Floor | |
| Faculty Lounge | 4th Floor | |
| Auditorium Lounge | 2nd Floor | |
| Auditorium | 2nd Floor | 153 |
| Classrooms | 1st, 2nd, 3rd Floors | 23-71 |
| Distance Learning Rooms | 2nd Floor | 20-55 |
| Conference Rooms | 3rd, 4th, 5th, 6th, 7th, 8th Floors | 8-16 |
Document Actions