Document Actions
National Center for the Study of Collective Bargaining in Higher Education and the Professions
41st Annual National Conference
A Joint Labor/Management Meeting
Achieving Successful Results in Higher Education
through Collective Bargaining
CUNY Graduate Center, New York, New York,
April 6, 7, 8, 2014
Underwritten by a grant from TIAA-CREF
With additional funding by the Segal Company
Click for the conference schedule (in two parts): Sunday and Monday-Tuesday.
Click for Panel and Workshop Descriptions (including CLE descriptions).

To pre-register only for conference workshops (not panels), email your choices to: national.center@hunter.cuny.edu.

Click for the conference brochure, feel free to print out and mail in the registration.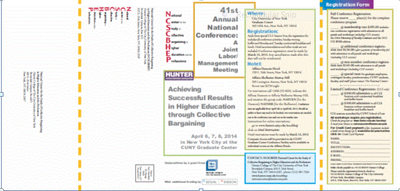 Conference Locations, Registration & Hotel Information (with thanks to the 2014 conference registrants and apologies to those still interested, registration is currently closed)


Map of Conference Locations is listed below.


-CUNY Graduate Center
365 5th Avenue
New York, NY 10016
(between 34th and 35th Streets)


Click for Credit Card Payment Form (for conference registration & payment of conference fee); if you would like to pay an outstanding conference fee by credit card, please call our office: 212.481.7550.
Click for the Conference Registration Form (if paying by check)


-Affinia Dumont Hotel
150 East 34th Street
New York, NY 10016
(off the corner of Lexington Avenue)

-Shelburne Murray Hill Hotel
303 Lexington Avenue
New York, NY 10016
(off the corner of East 37th Street)

Click for Instructions on making Hotel Reservations

Click for the Conference Locations Map
Both of the conference hotels are
within walking distance of the conference Center.
Please consult the conference locations map
(above) for directions.