Document Actions
The National Center's 42nd Annual Conference in New York City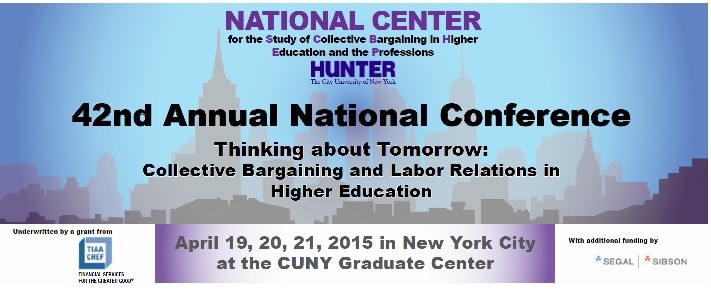 Click for Complete 2015 Conference Brochure
Click for Conference Schedule

The National Center's 42nd Annual Conference, which took place on April 19-21, 2015, was a major success with quality presentations examining diverse topics concerning collective bargaining and labor relations in higher education including civility and academic freedom, electronic privacy, new first contracts at the University of Oregon, Tufts University and Georgetown University, faculty diversity and retention, faculty salary structures and pay equity, bullying, mediating labor disputes, and the impact of the Pacific Lutheran decision.The National Center extends its thanks to all of the panelists and workshop presenters for taking the time to prepare and participate in the conference.

Our goal in organizing the annual conference was to create a forum for research presentations, for principled and relevant panel discussions concerning collective bargaining and labor relations, and for the exchange of practical skills through interactive workshops.Such a forum is particularly important based upon the continuing growth in collective bargaining and organizing efforts on campus, as well as changes to the legal landscape.

The conference would not have been possible without the support of Hunter College and the hard work of Hunter College, CUNY and National Center fellows, interns and volunteers. The conference was underwritten by a grant from TIAA-CREF with additional funding from the Segal Company.

Below are photos from the conference taken by Daniel Stein. In the near future, we will be posting podcasts and webcasts from the conference.
Welcoming Remarks by Hunter
College President Jennifer J. Raab.
Welcoming Remarks by CUNY
Faculty Senate Chair Terrence
F. Martell.




Welcoming Remarks by CUNY Vice
Chancellor for Labor Relations
Pamela S. Silverblatt.
Plenary Session on Civility &
Academic Freedom with Tom C.
Hogan, moderator Frederick
Schafer & Risa Lieberwitz.





Research Panel on Collective
Bargaining and Contingent
Faculty: A Survey of Results
with Gary Rhoades, Valarie
Martin Conley, Susan J.
Schurman and moderator
Steven Greenhouse.

Research Panel on the History
of Collective Bargaining in
Higher Education with Ernst
Benjamin, Ellen Schrecker,
moderator Donna Haverty-Stacke
and Derryn W. Moten.




Panel on Dues and Don'ts after
Harris v. Quinn with Richard K.
Zuckerman, David Strom,
Catherine Fisk and moderator
Gary Johnson.
Research Panel on the Impact of
Collective Bargaining and Local
Appropriations on Faculty
Salaries and Benefits at U.S.
Community Colleges with Steve
Katsinas, Clive Belfield and
Fred Floss.




Panel on the Impact of Pacific
Lutheran on Collective Bargaining
at Catholic Colleges and Universities
with David Gregory, Clayton Sinyai,
Maryann Parker, Nicholas Cafardi
and Michael P. Moreland.
Panel on Sexual Assaults on
Campus: What is to Be Done?
with Coleen Chin, Michelle Kiss,
Sabrina Sanders, Elizabeth
Davenport, and moderator
Alexandra Matish.




Panel on Music and Bargaining:
Negotiating in Tune at Music
Schools and Departments with
New School Educator and
National Endowment for the
Arts Jazz Master Jimmy Owens.
Research Panel on Negotiating
Academic Freedom for Contingent
Faculty with Cornell University
ILR Students Kevin Mollica,
Emily Miller & Shane Lancer.




Legal Panel Participant Senior
Legal Counsel of the AAUP
Aaron Nisenson.

Phased Retirement Panel with
Tim Lane, Steven Fillings, Amy
Strage, and William Connellan.



Click for More Conference Pictures