Document Actions
National Center Events

Save the Dates: March 26-28, 2023
National Center's 50th Annual Conference at Hunter College, CUNY

On March 26-28, 2023, the National Center will be holding our 50th annual conference in New York City.

Click here to Register. Click here for the Conference Schedule.

The theme of the 2023 annual conference will be Collective Bargaining in Higher Education Looking Back, Looking Forward, 1973-2023.


50th Annual Conference Keynote Speaker: Political Philosopher and Harvard Professor Michael Sandel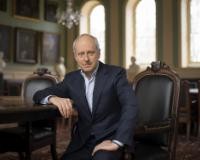 The National Center is very pleased to announce that political philosopher and Harvard University professor Michael Sandel will be the keynote speaker at our 50th anniversary conference on March 27, 2023 at Hunter College.

Professor Sandel's writings—on justice, ethics, democracy, markets, and higher education have been translated into 30 languages. Among his books are The Tyranny of Merit: What's Become of the Common Good?; What Money Can't Buy: The Moral Limits of Markets; Justice: What's the Right Thing to Do?; The Case against Perfection: Ethics in the Age of Genetic Engineering; Public Philosophy: Essays on Morality in Politics; Democracy's Discontent: America in Search of a Public Philosophy; and Liberalism and the Limits of Justice.
Below is a list of currently confirmed conference panels and panelists:

Labor Issues Facing Independent Musicians: Presentation, Discussion and Reception with Marc Ribot, Guitarist and Composer, Phillip Golub, Pianist and Composer, Amir Elsaffar, Trumpeter and Composer, Sulynn Hago, Guitarist and Composer, Larry Blumenfeld, writer (Wall Street Journal, Daily Beast, others), Moderator.

Panel: The 50-Year History of Collective Bargaining at Hofstra University with Herman Berliner, Lawrence Herbert Distinguished Professor, Provost Emeritus, Hofstra University, Peter C. Daniel, Professor of Biology, Hofstra University, Bernard J. Firestone, Professor of Political Science, Hofstra University, Estelle S. Gellman, Professor Emerita, Hofstra University, Elisabeth Ploran, Associate Professor of Psychology, Hofstra University, and Liora Pedhazur Schmelkin, Distinguished Professor Emeritus, Hofstra University.

Panel: Cultivating a Collaborative Culture in a Climate of Semi-Permanent Austerity with Nicholas DiGiovanni, Partner, Morgan, Brown & Joy, Chief Negotiator, University System of New Hampshire, Kimberly Harkness, Executive Assistant to the Provost and former Director of Human Resources, Keene State College, Emile Netzhammer III, Chancellor, Washington State University, Vancouver, former Provost at Keene State College, and Patrick Dolenc, Professor of Economics, Keene State College, Chair of Keene State College faculty union bargaining team, Panelist and Moderator.

Panel: Yesterday and Today: Experienced Administrators in Higher Education with Margaret E. Winters, Former Provost and Professor Emerita French and Linguistics, Wayne State University, Theodore H. Curry, Associate Provost and Associate Vice President for Academic Human Resources Emeritus, Professor Emeritus, School of Human Resources and Labor Relations, Michigan State University, Letitia Silas, Executive Director, Labor Relations, University of California, Jeffery Frumkin, Associate Vice Provost for Academic Human Resources, University of Michigan (retired), and Michael Eagen, Associate Provost for Academic Personnel, University of Massachusetts, Amherst, Moderator.

Panel: Yesterday and Today: Experienced Faculty Leaders in Higher Education with Jamie Dangler, former Vice President for Academics, United University Professions, Jeffrey Halpern, former President, Rider University AAUP, Art Hochner, Associate Professor Emeritus, Management, Temple University & former President, Temple Assn. of University Professionals, AFT 4531, Charles Toombs, President, California Faculty Association, and Penny Lewis, Secretary, Professional Staff Congress/CUNY, AFT Local #2334, Moderator.

Panel: Treasuring the Past and the Spirit of Change: Perspectives from Experienced Arbitrators with Rosemary A. Townley, Arbitrator and Mediator, Howard C. Edelman, Arbitrator and Mediator, Jacquelin F. Drucker, Arbitrator and Mediator, and Homer LaRue, Labor Arbitrator, Mediator, and Professor, Howard University Law School, Moderator.· Co-sponsored by the National Academy of Arbitrators.

Panel: Higher Education Unionization: Perspectives from Labor Relations Agencies with John Wirenius, Chairperson, New York State Public Employment Relations Board, Marjorie Wittner, Chairperson, Massachusetts Commonwealth Employment Relations Board, Mary Beth Hennessy-Shotter, Director of Conciliation and Arbitration, NJ Public Employment Relations Commission, and Michael P. Sellars, Executive Director, Washington State Public Employment Relations Commission, Moderator. Co-sponsored by the the Association of Labor Relations Agencies.

Panel: College Athletes, NCAA and the NLRA: An Update with Gabriel Feldman, Sher Garner Professor of Sports Law and Paul and Abram B. Barron Professor of Law, Associate Provost NCAA Compliance, Director Sports Law Program and Co-Director, Tulane Center for Sport, Joshua Nadreau, Fisher Phillips LLP, Mark Gaston Pearce, Executive Director, Workers' Rights Institute, Georgetown University Law School, and former National Labor Relations Board Chairman, and Jeffrey Hirsch, Geneva Yeargan Rand Distinguished Professor of Law, University of North Carolina School of Law, Panelist and Moderator.

Panel: Collective Bargaining and Building Relationships During the COVID-19 Crisis with Melissa Sortman, Director, Faculty and Academic Staff Affairs, Michigan State University, Kate Birdsall, President, UNTF and Associate Professor, Michigan State University, Adela Ghadimi, PhD candidate, Askew School of Public Administration and Policy, Florida State University, and Braden Campbell, Reporter, Law360, Moderator.

Panel: Non-Discrimination Contract Clauses: Substance and Procedures with Erin Ward, PhD Student in Sociology, CUNY Graduate Center, Anu Biswas, Graduate Student, CUNY School of Labor and Urban Studies, Melanie Kruvelis, Graduate Student, CUNY School of Labor and Urban Studies, and Ana Avendano, Professor, CUNY School of Law, Panelist and Moderator, and Discussants: Natasha Baker, Managing Attorney, Novus Law Firm, Discussant, Ege Yumusak, Lecturer, Columbia University, and Nato Green, Collective Bargaining Coordinator, SEIU Local 1021.

Panel: Past, Present, and Future of Graduate Student Employee Unions with Bob Muehlenkamp, first TAA President, Julie Schmid, Executive Director, AAUP, Candi Churchill, Executive Director, United Faculty of Florida, Emily Schkeryantz, Organizer, UAW Local 1596, Danielle Dirocco, Organizational Specialist, NEA, Cassidy Wagner, Vice President for Communication, Coalition of Graduate Employees, AFT Local 6069, and Joseph van der Naald, PhD Candidate in Sociology, Graduate Center, CUNY, Moderator.

Documentary Viewing: The Wisconsin TA Strike by Mike Oberdorfer, William B. Pratt, James W. Russell; Re-edited in 2021 by James W. Russell. In March 1970, the Teaching Assistants Association at the University of Wisconsin went out on strike for twenty-four days. It was the first TA strike in the history of the United States. This documentary is the story of the strike that launched the first graduate student employee union in the country.

Panel: Collective Bargaining and Governance: In Harmony or In Conflict? with Amitabha Bose, President, NJIT Professional Staff Association/AAUP, Fadi Deek, former Provost & Senior Executive Vice President and Dean of the College of Science and Liberal Arts, NJIT, Rene Castro, CFA Member, CSU, Dominguez Hill, Carl Levine, Levy Ratner, and Christopher Sinclair, Secretary/Treasurer, AAUP, Moderator.

Panel: Title IX: Its Past, Its Present, and Its Future with Frazier Benya, Senior Program Officer, National Academies of Sciences, Engineering, Lance Houston, Title IX Coordinator and Director of Equity and Compliance, Adelphi University, Risa Lieberwitz, Professor of Labor and Employment Law in the Cornell University School of Industrial and Labor Relations and General Counsel of the American Association of University Professors (AAUP), Tamiko Strickman, Special Advisor to the President and Executive Director of the Office of Equity, Civil Rights, and Title IX, University of Michigan, and Moderators: Karen R. Stubaus, Ph.D., Vice President for Academic Affairs, Rutgers University and Alexandra Matish, J.D., Associate Vice Provost for Academic and Faculty Affairs and Senior Director, Academic Human Resources, University of Michigan. Panel Co-organizer: National Academies' Action Collaborative on Preventing Sexual Harassment in Higher Education.

Panel: Medical Training and Collective Bargaining: Histories and Challenges with Dr. Srinivas Pentyala, Professor & Director of Translational Research in Anesthesiology & SARAS Coordinator; Faculty in Orthopedics & Rehabilitation, Urology, Health Sciences, Physiology & Biophysics, Stony Brook School of Medicine, Thomas H. Riley, Jr., Executive Director of Labor and Employee Relations and Special, Counsel for the University of Illinois System, David Dashefsky, Director of Strategic Campaigns, CIR-SEIU Healthcare, and Sara Slinn, Associate Professor, Osgoode Hall Law School, York University, Moderator.

Panel: Labor and Anti-Discrimination Rights at Religiously-Affiliated Institutions with Gerald J. Beyer, Associate Professor of Christian Ethics, Villanova University, Saerom Park, Assistant General Counsel, SEIU, Sarah M. Phelps, General Counsel, Trinity Washington University, and Michael Loconto, Labor Arbitrator, Loconto ADR, Moderator.

Panel: History of Full-time and Part-time Contingent Faculty Unionization since the Early 1990s with Joseph P. McConnell, Morgan, Brown & Joy, Anne McLeer, Director of Higher Education and Strategic Planning, SEIU Local 500, Andrew Cantrell, Field Service Director, Illinois Federation of Teachers, Scott C. Merrill, Senior Director of Labor Operations and Senior Labor Counsel, Northeastern University, and Katherine H. Hansen, Gladstein, Reif & Meginniss, LLP, Moderator.

Panel: Past and Present of Negotiated Contingent Faculty Job Security: Labor Perspectives from the University of California, the University of Michigan and the City University of New York with Stacy Steinberg, Lecturer, UC San Diego, and UC-AFT Steward, Kirsten Herold, President, Lecturers' Employee Organization, AFT Local 6244, Eric Beuerlein, Vice President, Lecturers' Employee Organization, AFT Local 6244, Luke Elliott-Negri, Legislative Representative, PSC-CUNY and Researcher, CUNY School of Labor and Urban Studies, and Alissa G. Karl, Vice President for Academics, United University Professions, Moderator.

Panel: Looking Back, Looking Ahead: State and Federal Higher Education Financing Over the Past Half-Century with F. King Alexander, Professor, Florida Gulf Coast University, Faculty Fellow, College Promise Foundation & Senior Faculty Fellow, Education Policy Center, University of Alabama, Sophia Laderman, Associate Vice President, State Higher Education Executive Officers Association (SHEEO), Fred Floss, Professor, SUNY at Buffalo & Co-Director, Center for Economic Education, Mary Taber, Director of Research, United University Professions, and Thomas Harnisch, Vice President for Government Relations, State Higher Education Executive Officers Association, Moderator.

Panel: Economic and Other Factors Impacting Enrollment Trends, 1973-2023 with James Castagnera, Adjunct Professor of Law, Drexel University, former Associate Provost/Legal Counsel for Academic Affairs, Rider University, Brad Litchfield, Assistant Provost for Finance and Administration, Academic Affairs, Montclair State University, Karina Salazar, Assistant Professor, College of Education, University of Arizona, Melanie Carter, Associate Provost & Director of the Center for HBCU Research, Leadership, and Policy, Howard University, and Nicole Bennett, Associate Provost & Assistant Vice President, Academic Affairs, Hunter College, CUNY, Moderator.

Panel: Salary Equity in Higher Education with Johanna E. Foster, Ph.D., Associate Professor of Sociology, Helen Bennett McMurray Endowed Chair of Social Ethics, Department of Political Science and Sociology, President and former Chief Negotiator, FAMCO AAUP-AFT, Monmouth University, Lisa Dinella, Professor and Principal Investigator of the Gender Development Laboratory and Director of Program in Gender and Intersectionality Studies (PGIS), Monmouth University, Jennifer McGovern, Associate Professor, Faculty Athletics Representative and Sociology Program Director, Monmouth University, Annie Kopecky, Lecturer, University of Pennsylvania, and Barbara Bowen, Moderator.

Panel: Exploring the Retirement Income Equity Gap with Brent Davis, Senior Economist, TIAA Institute, John Dorsa, Chief Pension Officer, Office of the New York City Comptroller, Valerie Martin Conley, Provost and Vice President for Academic Affairs, Idaho State University, and Anne Ollen, Managing Director, TIAA Institute, Panelist and Moderator.

Panel: Annual Legal Update (CLE) with Amy L. Rosenberger, Willig, Williams & Davidson, Monica C. Barrett, Bond, Schoeneck & King PLLC, Henry Morris, Jr., Partner, ArentFox Schiff LLP, Aaron Nisenson, Senior Legal Counsel, AAUP, and Brian Selchick, Cullen and Dykman LLP, Moderator.

Panel: Public Service Loan Forgiveness: Labor-Management Cooperation for Campus and Community Benefits with Jeri O'Bryan-Losee, Secretary-Treasurer, United University Professions, Jessica Saint-Paul, Chair, Adjunct Faculty Action Committee (AFAC), Lead, Student Debt Clinic Trainer, Los Angeles College Faculty Guild, Local AFT 1521, and Winston Berkman-Breen, Deputy Director for Advocacy and Policy Counsel, Student Borrower Protection Center, Moderator (panel in formation).

Additional news about panels and panelists will be announced in future newsletters and on our website.
Support for the Conference is provided by:

| | | |
| --- | --- | --- |
| | | |
| | | |
| | | |
| | | |

Become a Conference Sponsor or Program Advertiser to Celebrate Our 50th Anniversary and Support Our Research

To help celebrate the National Center's 50th anniversary, we encourage higher education institutions, unions, law firms, and companies to become a sponsor of our 2023 annual conference.

Through a conference sponsorship you will demonstrate support for the National Center's continuing labor-management mission and research agenda.

Another important way to celebrate the National Center's 50th anniversary and demonstrate support for our mission and research is for your institution, union, law firm, organization or company to place an advertisement in our 2023 conference program.

Please email us with any questions at: nat_ctr@hunter.cuny.edu