How do I add a Twitter Follow button?
Thanks to a new portlet, now you can easily add an official Twitter Follow button to your WebCMS site. In order to add a follow button, go to the Portlet Management page. The link is at the bottom of each portlet area, as well as in the main content area, and looks like this: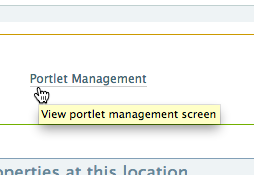 Select the area where you want the button displayed, click on the corresponding dropdown menu, and select the Twitter Follow Button. This will open the Twitter Follow Button settings page showing the following fields: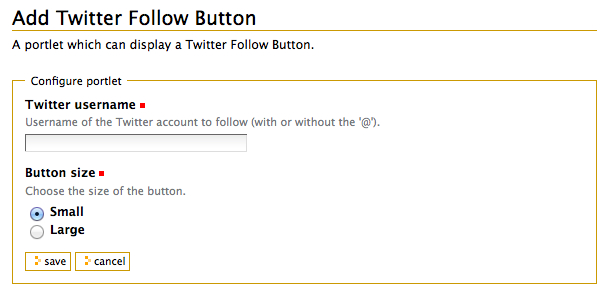 Twitter username: Twitter usernames start with the @ symbol, just as in @Hunter_College or @HunterSciMON. Note that you do not need to own the Twitter account to add a button to your site—no authentication is necessary.
Button size: Buttons come in two sizes, as illustrated below.


Small Twitter follow button


Large Twitter follow button
Click Save and preview on your site.
Another exciting Twitter feature for your site is a Timeline. Read our tutorial and learn how to add a Twitter Timeline.
Document Actions