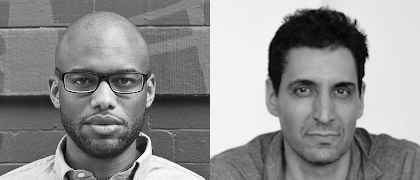 Mychal Denzel Smith
Saïd Sayrafiezadeh
A completely new Creative Nonfiction MFA
We seem to be dominated by a culture where facts are treated as negotiable, even assailed as a hindrance. At Hunter you will discover that we see it differently. To us facts are liberating. They are the foundation of our art.

But before you can get to the art, you have to report the stories. This demands courage, curiosity, persistence, not to mention a high tolerance for confusion and dead-ends. We want to help our students find their unique authorial voices through the rigorous and joyful work of gathering evidence.
Creative Nonfiction begins in process-how we move in the world and relate to people or to subjects or environments. Unlike conventional journalism, Creative Nonfiction springs from personal perspective-whether it be essays, opinion, reportage, memoir or hybrid forms of storytelling.
We seek students who look both inward and outward, who are committed to the connections between their experiences and the broader concerns of the world.
Meet the faculty who will teach you how to do what is demanded in the real world of Creative Nonfiction writing.
Saïd Sayrafiezadeh is the author, most recently, of the story collection, American Estrangement, a finalist for the LA Times Book Prize. His memoir, When Skateboards Will Be Free, was selected as one of the 10 best books of the year by Dwight Garner of The New York Times, and his story collection, Brief Encounters With the Enemy, was a finalist for the PEN/Robert W. Bingham Fiction Prize. His writing has appeared in The New Yorker, The Paris Review, The Atlantic, The Best American Short Stories, Granta, and McSweeney's, among other publications. He is the recipient of a Whiting Writers' Award for nonfiction and a Cullman Center for Scholars and Writers' fiction fellowship. Sayrafiezadeh serves on the board of directors for the New York Foundation for the Arts. He is also a fellow at the New York Institute for the Humanities.
Mychal Denzel Smith is the author of the New York Times bestseller Invisible Man, Got the Whole World Watching and Stakes Is High, winner of the 2020 Kirkus Prize for Nonfiction. He is a Puffin Fellow at Type Media Center and host of the podcast "Open Form" on LitHub Radio. His work has appeared in the New York Times, Washington Post, Harper's, Artforum, The Oxford American, The New Republic, The Nation, and more. In 2014 and 2016, TheRoot.com named him one of the 100 Most Influential African-Americans in their annual The Root 100 list. He was also a 2017 NAACP Image Award Nominee.