Cristina León Alfar
PhD English Literature, University of Washington, 1997

Professor Alfar's rese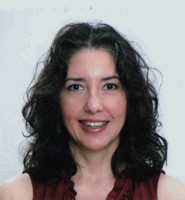 arch interests include Early Modern English Drama, particularly Shakespeare, and the intersections between literature, culture, gender, law, and politics. She teaches Shakespeare, late 15th and early 16th century English Drama, early modern English Women writers, and feminist theory.
Her new book, Women and Shakespeare's Cuckoldry Plays: Shifting Narratives of Marital Betrayal, (forthcoming Routledge, "Women and Gender in the Early Modern World," 2017), examines the narrative conflicts between men's accusations of adultery against women and women's responses to those accusations. William Shakespeare's The Merry Wives of Windsor, Troilus and Cressida, Much Ado about Nothing, Othello, T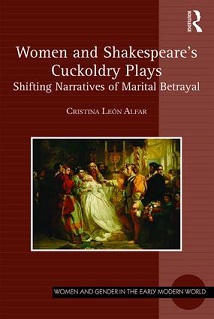 he Winter's Tale, and Cymbeline, early modern English court records, marital complaints and private letters, form a series of cultural narratives that disclose the various motives for and strategies of men's accusations and women's practical and cogent answers. Her reading brings attention to the enabling function of female bonds, which, by facilitating female agency, allow women steadily and increasingly to work against the violent power of the men and to alter the dramatic direction, energy, and matter of the plays. Even in their representation of men's violence against women, the plays force a discursive shift in the early modern rhetoric on women's virtue and power and redefine marital betrayal as based on male faithlessness. Drawing on what we have learned about the contradictory liberties and constraints of early modern women's lives, Women and Shakespeare's Cuckoldry Plays argues that women's agency comes out of a discourse on female virtue that enables, in Butler's terms, their acts, their efforts to control narratives about their bodies and minds. Like women in the period, therefore, whose lives both corresponded to and contradicted their culture's assumptions and laws, the women in Shakespeare's cuckoldry plays assert power over what can be said about them, recouping and resisting the primacy of virtue. Thus Shakespeare's women are and are not virtuous, for while they maintain a bodily continence, their revolt against male tyranny exceeds the bounds set by early modern moralists on silence and obedience as evidence of bodily virtue.
Professor Alfar served as the department Chair from 2005-2014. She was appointed to the Modern Language Association Committee on Academic Freedom and Professional Rights and Responsibilities in 2015 and will serve a three-year term.
EDITING:
Series Co-Editor, "Late Tudor and Stuart Drama: Gender, Performance, and Material Culture," Medieval Institute Publications, MIP – The University Press at Kalamazoo, (with Helen Ostovich, Founding Editor, Early Theatre, Professor Emeritus, English and Cultural Studies, McMaster University). mip-archumanitiespress.org/series/mip/late-tudor-stuart-drama/

SELECTED PUBLICATIONS:
Women and Shakespeare's Cuckoldry Plays: Shifting Narratives of Marital Betrayal. Forthcoming, Routledge, "Women and Gender in the Early Modern World," 2017.
"'Let's Consult together': Women's Agency and the Gossip Network in The Merry Wives of Windsor." The Merry Wives of Windsor: New Critical Essays. Eds. Evelyn Gajowski and Phyllis Rackin. New York: Routledge, 2014. 38-50.
"'all my hair in knots': King Lear at the Public Theater free Shakespeare in the Park, Central Park, New York City." Internet Shakespeare Editions, Performance Chronicle, (13 August 2014): University of Victoria, BC, Canada.
"'Proceed in Justice': Narratives of Marital Betrayal in The Winter's Tale." Justice, Women and Power in English Renaissance Drama. Eds. Andrew J. Majeski and Emily Detmer-Goebel. Madison and Teaneck, N.J.: Farleigh Dickinson UP, 2009. 46-65.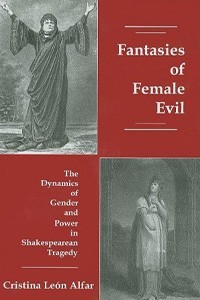 "Elizabeth Cary's Female Trinity: Breaking Custom with Mosaic Law in The Tragedy of Mariam." Early Modern Women: An Interdisciplinary Journal, Volume 3, (2008):61-103.
"Looking for Goneril and Regan." Privacy, Domesticity and Women in Early Modern England. Ed. Corinne Abate. Aldershot, Hampshire, UK: Ashgate, 2003. 167-198.e 3, (2008): 61-103.
Fantasies of Female Evil: The Dynamics of Gender and Power in Shakespearean Tragedy. Newark: U of Delaware P, 2003.
"'Blood Will Have Blood': Power, Performance, and Lady Macbeth's Gender Trouble." Jx: A Journal in Culture and Criticism. 2.2 (1998): 179-207.
"King Lear's 'Immoral' Daughters and the Politics of Kingship." Exemplaria: A Journal of Theory in Medieval and Renaissance Studies. 8.2 (1996): 375-400.
"Staging the Feminine Performance of Desire: Masochism in The Maid's Tragedy." Papers on Language and Literature. 31.3 (1995): 313-333.
Document Actions