Janet Neary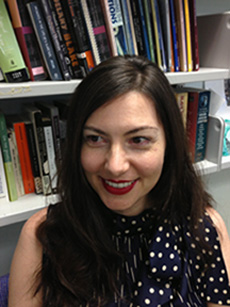 Professor Neary came to Hunter in 2009 after completing a Ph.D. in English with emphases in Feminism and Critical Theory. Her research examines 19th-century African American narrative and its relation to 20th-century visual culture, with a particular emphasis on slave narrative form.
She is currently at work on two projects which reconsider 19th-century visual culture from the perspective of African American writers: a monograph on the slave narrative, Fugitive Testimony: Race, Representation, and the Slave Narrative Form, which analyzes textual strategies ex-slave narrators developed to challenge the visual logic of racial slavery and a co-edited anthology of primary texts, A More Perfect Likeness: African Americans Write Nineteenth-Century Visual Culture, which collects the prodigious African American textual and visual response to an expanding visual culture which disproportionately affected their lives. Both projects unsettle the assumption that African Americans were passive objects of a dominant white gaze and resituate African American authors as primary agents in generating, adapting, and transforming technologies of visual culture to fit their own purposes. Her essay "Mining the African American Literary Tradition: James Williams's Fugitive Slave in the Gold Rush and the Contours of a Black Pacific," will appear this Spring in ESQ: A Journal of the American Renaissance.
In her teaching she encourages students to see 19th-century African American texts as complex, imaginative, and multifaceted responses to the requirement that black authors provide evidence of their humanity. Her curriculum emphasizes form, social context, and the conditions of textual production. Recent courses include "19th-century African American Narratives," "Slave Narratives: 1760-the Present," and "Performing Freedom: African American Cultural Resistance in Antebellum Contexts." As a lecturer for the New York Council for the Humanities Speakers in the Humanities program she gives talks on slave narratives and contemporary art throughout the state.
Document Actions