Janet Neary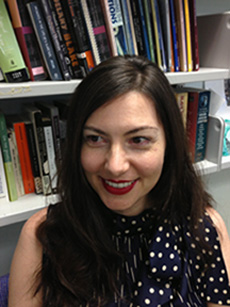 Professor Neary came to Hunter in 2009 after completing a Ph.D. in English from University of California, Irvine, with emphases in Feminism and Critical Theory. Her primary research examines 19th-century African American narrative and its relation to 20th-century visual culture, with a particular emphasis on slave narrative form. New research examines African American writing of the American West in the context of The Compromise of 1850 and the Gold Rush.

Her book, Fugitive Testimony: Race, Representation, and the Slave Narrative Form, is forthcoming from Fordham University Press in Fall 2016. Tracing the long arc of the African American slave narrative across the 18th, 19th, and 20th centuries, Fugitive Testimony analyzes textual strategies ex-slave narrators developed to challenge the visual logic of racial slavery, rethinking the epistemological limits of the form and theorizing the complicated interplay between the visual and the literary throughout its history. Parts of this work have been published as essays in MELUS and African American Review.

She has also published on African American literature of the West, exploring the dual impact of the Gold Rush and the Fugitive Slave Law on mid-19th-century African American literature. Recent essays have appeared in ESQ and are forthcoming in the essay collection Bordering Establishments: Mapping Regions in Early American Writing (University of Georgia Press, Fall 2015).

She is at work on two editing projects: A More Perfect Likeness: African Americans Write Nineteenth-Century Visual Culture, an anthology of primary texts which collects the prodigious African American textual and visual response to an expanding visual culture in the 19th century which she is co-editing with Sarah Blackeood, and Lindon Barrett: Selected Essays, a collection which presents work by one of the foremost theorists of African American studies, American studies, literary Studies, queer theory, and their intersections.

In her teaching she encourages students to see 19th-century African American texts as complex, imaginative, and multifaceted responses to the requirement that black authors provide evidence of their humanity. Her curriculum emphasizes form, social context, and the conditions of textual production. Recent courses include "19th-century African American Narratives," "Slave Narratives: 1760-the Present," "Frederick Douglass," "Race and Visual Culture," and "Performing Freedom: African American Cultural Resistance in Antebellum Contexts." As a lecturer for the New York Council for the Humanities Speakers in the Humanities program she gives talks on slave narratives and contemporary art throughout the state.
Document Actions