Pre-Health Mentoring Initiative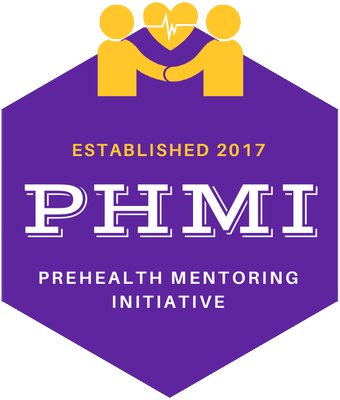 Follow us on Instagram
Join our Facebook group
Please direct any questions to: phmihunter@gmail.com
Pre-Health Mentoring Initiative
The Pre-Health Mentoring Initiative (PHMI) pairs current upper-class pre-health students who have successfully completed some or all of their pre-health required courses with first or second year pre-health students seeking guidance or extra support. Founded in 2017 by Hunter Post Baccalaureate Certificate students, in collaboration with the Pre-Health Advising Office, PHMI recognizes the importance of mentorship to all aspects of the pre-health journey and serves to complement the advising services offered by the Pre-Health Advising Office by adding the perspective and value of accomplished pre-health students.
How PHMI Works
Mentors (current upper-class students on the pre-health track), work 1-on-1 with their Mentees on a monthly basis for one academic year. Mentor/Mentee discussions may include anything Mentees are curious about, including but not limited to: how to choose courses, how to study and test-taking strategies, how to become a competitive pre-health applicant, how to network for clinical and research opportunities, how to obtain recommendation letters and so much more! Mentors are also provided with a monthly email providing "Suggested Topics" for discussion with their Mentees to ensure that communications are productive. PHMI serves all pre-health students, including those interested in medicine, MD-PhD, dentistry, physical therapy, physician assistant, optometry, pharmacy, veterinary medicine, occupational therapy, and podiatry. Although, the PHMI Board attempts to match each Mentee with a Mentor who is pursuing the same area of healthcare, it may be difficult to find an exact match so we encourage Mentees to be flexible in their pairing with Mentors. Please expect that it will take several weeks to complete the process of assigning a Mentor. If you have not been matched after a period of 4 weeks, please email phmihunter@gmail.com
Mentees:
Incoming freshmen and transfer students can apply to be a Mentee by clicking on the application link at the top of this page. Mentees are matched up with an upperclassmen Pre-Health Mentor based on common interests, goals, and pathways. Students who have a pre-health Mentor tend to perform better in their classes as they are guided to more resources and provided with additional study skills. Also, students with Mentors generally are more confident in choosing classes and navigating their pre-health career.
To participate as a Mentee you must:
Pursue a Pre-Health field of study (Medicine, Dentistry, Veterinary Medicine, Pharmacy, Optometry, Physician Assistant, and Physical Therapy)
Communicate with their Mentors
Willing to meet with their mentors once monthly on an online platform such as but not limited to Zoom
Submit a Program Evaluation once per semester
Maintain a professional relationship with the Mentees
Here are some quotes from our past mentees and how PHMI helped their career:
"My mentor made my first year at Hunter so much easier. There was plenty of complaining and 'reality checks' from peers and staff, but he was always welcoming and encouraging. Seeing him, a fourth-year student, be so driven and inspired definitely made me consider if I truly want to pursue medicine. Once I decided that I definitely do, he was there recommending classes, helping me draft applications to research positions, and answering even the simplest questions I had. Overall, I am glad he was my mentor and I know he will do great no matter where he goes!"
"My mentor was always attentive to my questions and concerns, he would get back to me as soon as possible. I feel more comfortable with the pre-dental track and the requirements that I need for Dental school. He helped me develop a road map of what steps I should take, and that has helped me tremendously.
We hope you will take advantage of this opportunity and become a part of PHMI
Mentors:
PHMI is a meaningful way to build leadership and communication skills. As a Mentor, you are responsible for guiding your Mentees through a demanding pre-health track and helping them build their portfolio of experiences. Mentors can also take on the role of PHMI Ambassador, which enables them to have a greater leadership role in PHMI and to host Mentor training sessions and events. By giving the gift of mentoring, you are helping to guide students in their preparation for a health career and giving them information that you benefited from in your preparations. Mentoring also provides a great way to give back to the community and earn community service hours. The Pre-Health office will award successful Mentors with a minimum of 5 hours and a maximum of 20 hours of volunteer community service at the end of each semester. As a Mentor, you represent Hunters' diverse and enthusiastic pre-health student community.
To be eligible to be a Mentor you must:
Have a minimum cumulative GPA of 3.5
Pursue a Pre-Health field of study (Medicine, Dentistry, Veterinary Medicine, Pharmacy, Optometry, Physician Assistant, Physical Therapy, and Occupational Therapy)
Hold monthly meetings with each Mentee on an online platform such as but not limited to Zoom
Provide constructive and supportive feedback and communication to each Mentee
Submit a program evaluation for each Mentee once per semester
Here are some quotes from our past Mentors on how PHMI helped their careers:
"I could tell my mentee really enjoyed the mentoring program. As the first in her family to go through the pre-health process, it was clear that she was looking for someone to go to for advice. I appreciated that she wasn't hesitant to ask me any kind of question, whether it be related to the pre-health office requirements or her current course content. I also appreciated that she was open to communicating via text/email more often than meeting in person, as both of our schedules were busy. She was great to work with this semester!"
"My mentee is exceptional. He excels in networking with other medical professionals and was admitted into a summer program. We worked on the application together and I saw his determination to pursue medicine and research. He wants to combine music and medicine as he is a piano player and I really hope that he gets the chance to do so. I would love to be able to continue mentoring him throughout next year because I have learned a lot from him as well."
We hope you will join us as a Mentor to build a stronger pre-health student community at Hunter.
Document Actions