Osteopathic School Requirements
Course Requirements for Selected Osteopathic Schools
New York Institute of Technology College of Osteopathic Medicine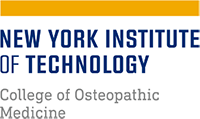 Minimum GPA: 3.50
Admission Exam:
MCAT required
Prerequisite Coursework:

8 semester hours of Biology with Lab
8 semester hours of General Chemistry with Lab
4 semester hours of Organic Chemistry I & II with Lab
8 semester hours of Physics
6 semester hours of English

Required Application:

The American Association of Colleges of Osteopathic Medicine Application Service (AACOMAS)
Website: https://www.nyit.edu/medicine/d.o._program_requirements
---
Touro College of Osteopathic Medicine

Minimum GPA: 3.45
Admission Exam:
MCAT required
Prerequisite Coursework:

8 semester hours of Biology with Lab
8 semester hours of General Chemistry with Lab
3 semester hours of Biochemistry with Lab
8 semester hours of Organic Chemistry with Lab
8 semester hours of Physics
6 semester hours of English
3 semester hours of Behavioral Sciences
3 semester hours of Calculus or Statisitics

Required Application:

The American Association of Colleges of Osteopathic Medicine Application Service (AACOMAS)
Website: https://tourocom.touro.edu/admissions--aid/do-applicants/academic-requirements/
---
A.T Still University School of Osteopathic Medicine in Arizona

Minimum GPA: 2.80
Admission Exam:
MCAT required
Prerequisite Coursework:

8 semester hours of Biology with Lab
8 semester hours of General Chemistry with Lab
8 semester hours of Organic Chemistry with Lab
8 semester hours of Physics with Lab
6 semester hours of English

Recommended Coursework:

Biochemistry
Genetics
Anatomy & Physiology
Cellular Biology
Microbiology
Immunology

Required Application:

The American Association of Colleges of Osteopathic Medicine Application Service (AACOMAS)
Website: https://www.atsu.edu/school-of-osteopathic-medicine-arizona/admissions/requirements
---
University of New England College of Osteopathic Medicine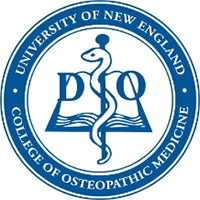 Minimum GPA: 2.80
Admission Exam:
MCAT required
Prerequisite Coursework:

8 semester hours of Biology with Lab
8 semester hours of General Chemistry with Lab
8 semester hours of Physics with Lab
4 semester hours of Organic Chemistry with Lab
6 semester hours of English
6 semester hours of Behavioral Science
3 semester hours of Biochemistry

Recommended Coursework:

Anatomy & Physiology
Molecular Biology
Genetics
Math/Statisitics
Microbiology
Humanities
Behavioral Science

Required Application:

The American Association of Colleges of Osteopathic Medicine Application Service (AACOMAS)
Website: https://www.une.edu/com/admissions/criteria-procedures
---
Rowan University School of Osteopathic Medicine
Minimum GPA: 3.40
Admission Exam:
MCAT required
Prerequisite Coursework:

8 semester hours of Biology with Lab
8 semester hours of General Chemistry with Lab
8 semester hours of Organic Chemistry with Lab
8 semester hours of Inorganic Chemistry with Lab
3 additional semester hours from the English department
8 semester hours of Physics (with Lab)
6 semester hours of Behavioral Science
3 semester hours of English

Recommended Coursework:

Biochemistry
Anatomy & Physiology
Microbiology

Required Application:

The American Association of Colleges of Osteopathic Medicine Application Service (AACOMAS)
Website: https://som.rowan.edu/education/admissions/apply.html
---
Lake Erie College of Osteopathic Medicine

Minimum GPA: 3.20
Admission Exam:
MCAT required
Prerequisite Coursework:

8 semester hours of Biology with Lab
8 semester hours of Inorganic Chemistry with Lab
8 semester hours of Organic Chemistry with Lab
6 semester hours of English
6 semester hours of Behavioral Sciences
4 semester hours of Physics with Lab

Required Application:

The American Association of Colleges of Osteopathic Medicine Application Service (AACOMAS)
Website: https://lecom.edu/college-of-osteopathic-medicine/com-entrance-requirements/
---
Nova Southeastern University College of Osteopathic Medicine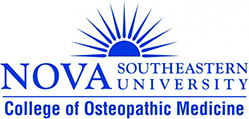 Minimum GPA: 3.00
Admission Exam:
MCAT required
Prerequisite Coursework:

8 semester hours of Biology with Lab
8 semester hours of General Chemistry with Lab
8 semester hours of Organic Chemistry with Lab
8 semester hours of Physics with Lab
6 semester hours of English
3 semester hours of Biochemistry

Required Application:

The American Association of Colleges of Osteopathic Medicine Application Service (AACOMAS)
Website: https://osteopathic.nova.edu/do/admissions/index.html
---
Philadelphia College of Osteopathic Medicine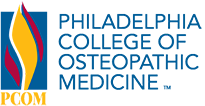 Minimum GPA: No Minimum Requirements
Admission Exam:
MCAT required
Prerequisite Coursework:

8 semester hours of Biology with Lab
8 semester hours of Physics with Lab
16 semester hours of Chemistry with Lab (at least 4 must be from Organic Chemistry and 3 from Biochemistry)
6 semester hours of English

Required Application:

The American Association of Colleges of Osteopathic Medicine Application Service (AACOMAS)
Website: https://www.pcom.edu/admissions/apply/osteopathic-medicine.html
---
The list of Hunter College Courses is meant as a catalogue of courses in selecting appropriate and corresponding courses to an allied health professions school's admissions requirements. This catalogue of courses is not meant to detail pre-requisites for admission to all health professions schools. Again, this catalogue of courses is listed to assist students in their course planning.
Course Pre-Requirements for each individual school are listed within the school's text box; students may refer to the individual school's requirements and compare to the corresponding Hunter College course.
disclaimer: This information is an overview and should in NO WAY substitute for personally reviewing requirements for each school.
⇔
Corresponding Science Courses for the
Health Professions at Hunter College:
BIOL 100 General Biology I (with Lab)

(spring and summer)

BIOL 102 General Biology II (with Lab)

(fall)

BIOL 120 Anatomy and Physiology I

(fall)

BIOL 122 Anatomy and Physiology II (with lab)

(spring)

BIOL 203 Genetics

(spring)

BIOL 230 Microbiology

(spring)

BIOL 270 Intro to Neuroscience

(fall)

BIOL 300

or

CHEM 376 Biochemistry
---
CHEM 102 General Chemistry I Lecture

CHEM 104 General Chemistry II Lecture

CHEM 106 General Chemistry Lab I and II

CHEM 222 Organic Chemistry I Lecture

CHEM 223 Organic Chemistry I Lab

CHEM 224 Organic Chemistry II Lecture

CHEM 225 Organic Chemistry II Lab
---
PHYS 110 General Physics I (with Lab)

PHYS 120 General Physics II (with Lab)
---
MATH 150 Calculus I

MATH 155 Calculus II

STAT 213 Statistics
---
ENGL 120 Expository Writing

ENGL 220 Introduction to Writing about Literature

(or any writing-intensive course)

Medical Terminology—

no corresponding course at Hunter. You must ePermit the course.
---
Social Science Courses
ECO 100 Introduction to Economics

SOC 101 Introduction to Sociology

PSYCH 100 Introduction to Psychology

(or introduction to any of the behavioral sciences)

PSYCH 150 Developmental: The Development of the Life Span

(or introduction to any of the behavioral sciences)

Public Speaking—

any course where you are required to give classroom presentations
Document Actions