General Information
General Information on Pre-Health Advising
General Information
Until further notice, all appointments are now conducted via video conference. If you have a quick question, please send an e-mail to prehealth@hunter.cuny.edu.
Pre-Health students are encouraged to meet with a Pre-Health Advisor once each semester for advising regarding course selection, application planning, special programs, and pre-health file portfolio development.
Students who are registered with the Pre-Health Office (e.g. have submitted a Pre-Health Application and Contract) may schedule an appointment with a Pre-Health advisor in Navigate. Students not registered with the Pre-Health Office may meet with a Pre-Health Advisor during drop-in advising, group advising, or "Ask Pre-Health" sessions.
Please follow these steps to schedule an appointment in Navigate:
Login to Navigate with your CUNY Login.
Select "Schedule an Appointment."
Select "Academic Advising" then "Pre-Health" then select a service.
Select "Pre-Professional Suite" then select preferred advisor.
Select from among available days/times and follow prompts to finalize.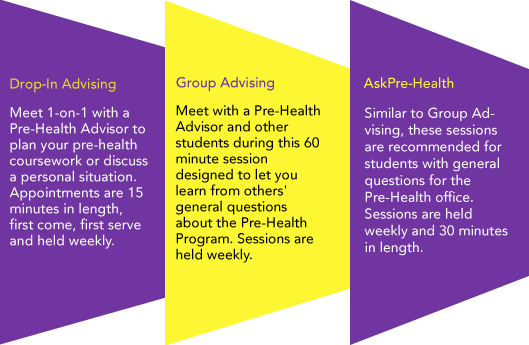 To RSVP for any of the above advising sessions, please visit our calendar or register directly from our email announcements sent over the Pre-Med Listserv. Also, please be sure to check out our FAQ for answers to the most frequently asked questions before registering for any of the above.
Document Actions