PHMI Board Members
PHMI BOARD MEMBERS:

Nina Ledis: Pre-Health Advisor, PHMI Faculty Director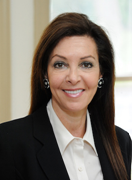 Nina Ledis is a pre-health advisor at Hunter College and provides the full range of pre-professional services to pre-health students from academic planning, to portfolio development, to application, essay, and committee letter review, to mock interviews, to pre-professional workshops. She is also responsible for the PHMI Initiative as a faculty advisor. She works closely with the other PHMI Board members to ensure that mentors are timely interviewed and trained and that mentees are timely matched with mentors. She also ensures that the PHMI program meets the standards of the Hunter College Pre-Health Professions Advising Office. Nina is a 1983 summa cum laude graduate of Dickinson College with Political Science honors and a 1986 graduate of Duke Law School. After practicing law for 15 years, she followed her interest in education, writing, and student advocacy through her academic advising and essay writing services on a freelance basis beginning in 2011 and has been privileged to serve the Pre-Health students at Hunter College for the past four years.
Nibras Ahmed: PHMI Student Program Director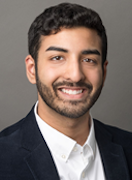 Nibras Ahmed is the director of PHMI. Currently, he is a senior at Macaulay at Hunter majoring in Human Biology and Economics and minoring in Mathematics. He has been fortunate enough to serve as a mentor and ambassador since his sophomore year and as program director since his junior year. His professional and academic mentors have been critical in helping him navigate his pursuit of a medical career and as program director. He hopes to guide our mentors to do the same. In the immediate future, he plans to strengthen the connection between our mentors and mentees through monthly programming and expand PHMI's reach at Hunter by streamlining outreach efforts. Mentorship is a central component of professional success and he hopes that our mentors can leverage their experience to provide a support network for their mentees.
Daniela Shill: PHMI Volunteer Coordinator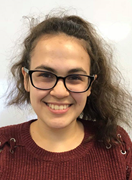 Daniela Shill is a senior pre-medical student in the Macaulay Honors program at Hunter, studying human biology with a minor in psychology. She first joined PHMI as a mentor while in her sophomore year, and had the privilege of becoming part of the PHMI Advisory Board in the winter of my junior year. Her specific role within PHMI involves coordinating with our incredible PHMI Ambassadors, working on event planning, and interviewing many of the applicants that we have in the program! She believes mentorship is vital to forming lasting connections within the Hunter pre-health community, and she greatly appreciate the work that this organization does in providing resources, support, and necessary skills to students in need. It's rewarding to see both mentors and mentees thrive after joining the program, and I hope to see many more students gain confidence along their pre-health journey!
Catherine Stratis: PHMI Mentee/Mentor Relations Coordinator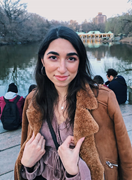 Catherine Stratis is a senior in the Macaulay Honors College at Hunter, double-majoring in Human Biology and Women and Gender Studies. She received early acceptance into the Icahn School of Medicine's FlexMed program, which has allowed her to explore her passions in gender studies and public health. Another passion she has is mentoring! This is her third year as a mentor for PHMI, as well as for the Macaulay@Hunter Peer Mentoring Program. Since joining the PHMI Advisory Board as Mentee/Mentor Relations Coordinator, she has had the pleasure of matching mentees with mentors based on the Pre-Health interests and goals specified in their applications to set up compatible, mutually beneficial relationships. At a school as large as Hunter, navigating resources and creating your Pre-Health network can be challenging, so the importance of having a mentor as a friendly face and guide cannot be understated. Hearing the personal experiences of mentees and mentors in PHMI is immensely gratifying; stories of support, encouragement, success, and growth underscore the true value of mentorship. She knows the joy of bonding with a mentee, showing them the ropes, and watching them become more confident and independent. It is an honor to be part of a program in which the Pre-Health advisors, mentors, and mentees echo these sentiments.
Mahnoor Memon: PHMI Social Media Director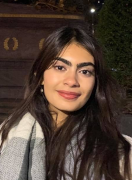 Mahnoor Memon is a Hunter junior on the pre-medical track and a Biochemistry major with a Sociology minor through the Thomas Hunter Honors Program. She joined PHMI as a mentee during her freshman year and has been serving as a mentor ever since her sophomore year. She recently joined PHMI as the Social Media Director. She handles our Social Media pages (@PHMIhunter on IG and the facebook group PHMI at Hunter College) and also has the privilege of interviewing our wonderful mentors when they join! Through PHMI, she was able to get matched with a great mentor who helped her create a clear plan for her future and build networks. Navigating Hunter can be hard as a freshman and having a mentor and relations through the Pre-Health office makes the journey doable.
Document Actions