PHMI Board Members
Meet the Board:
Nina Ledis: Pre-Health Advisor, PHMI Faculty Supervisor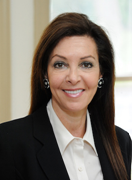 Nina Ledis is a pre-health advisor at Hunter College and provides the full range of pre-professional services to pre-health students from academic planning, to portfolio development, to application, essay, and committee letter review, to mock interviews, to pre-professional workshops. She is also responsible for the PHMI Initiative as a faculty supervisor. She works closely with the PHMI Advisory Board to ensure that mentor applicants are timely interviewed and trained and that mentees are timely matched with mentors. She also ensures that the PHMI program meets the standards of the Hunter College Pre-Health Professions Advising Office. Nina is a 1983 summa cum laude graduate of Dickinson College with Political Science honors and a 1986 graduate of Duke Law School. After practicing law for 15 years, she followed her interest in education, writing, and student advocacy through her freelance academic advising and essay writing services beginning in 2011 and has been privileged to serve the Pre-Health students at Hunter College since 2016.
Mahnoor Memon: PHMI Student Program Director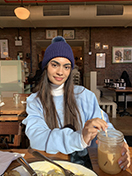 Mahnoor Memon is a Hunter senior on the pre-medical track and a Biochemistry major with a Sociology minor through the Thomas Hunter Honors Program. Her interests lie in addressing the ongoing health and racial disparities present within the current healthcare system. As a first generation college student, she joined PHMI as a mentee during her freshman year, and has been serving as a mentor ever since her sophomore year. In her junior year, she served as the Social Media Chair and currently has the privilege of serving as the PHMI Program Director. Through this position, she hopes to expand the PHMI community and strengthen our incoming Pre-Health mentees through creating strong mentors. She hopes to contribute to the growth of Freshmen and Transfer students in their Pre-Health endeavors through the use of a strong mentorship network.
Yuliya Severynenko: PHMI Administrative Coordinator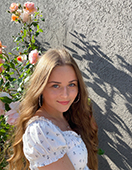 Yuliya Severynenko is a senior in the Yalow Honors program at Hunter, majoring in Biology. She joined PHMI as a mentor during the pandemic to help incoming freshmen students make a smoother transition into college, as well as the Pre-Health track. She is passionate about mental health and mindfulness, hoping to reach more students who might be struggling with their career path. With this, she aims to bring new and positive perspectives to instill confidence and prepare her mentees for the mental rigor of graduate school. As of May 2021, she had the privilege of becoming part of the PHMI Advisory Board as Administrative Coordinator to ensure smooth operations behind the scenes. She is excited to meet new people and help her team run PHMI.
Sophia Lamsifer: PHMI Volunteer Coordinator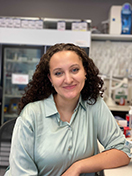 Sophia Lamsifer is a Hunter senior on the pre-medical track, majoring in Biology with a concentration in behavioral neurobiology and minoring in Public Policy through the Macaulay Honors Program. Since her freshman year, Sophia has been a member of PHMI in both a mentee and mentor capacity and currently serves on the PHMI Advisory Board as Volunteer Coordinator. She largely credits her positive experience as a mentee in helping her navigate being a Pre-Health student at Hunter College and hopes to relay her insights to her mentees as a mentor. As Volunteer Coordinator, she aims to strengthen the Ambassador role and the PHMI community as a whole by facilitating deeper Ambassador-Mentee and Ambassador-Mentor connections, creating a reliable support network for all Hunter College Pre-Health students.
Styliana Maimos: PHMI Mentee/Mentor Relations Coordinator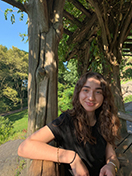 Styliana Maimos is a Hunter senior on the pre-medical track, majoring in Biology. She is interested in disparities in the healthcare system, and wants to conduct clinical research as a physician in the future. Styliana joined PHMI as a mentor during her junior year as a way to give back to the Pre-Health community and guide students who are just starting out on their Pre-Health journeys. She also helped introduce "Humans of PHMI" during the Fall 2020 semester as a way to share and embrace students' unique stories. She wanted to display the barriers that students had to overcome and showcase the relatable aspects of our Pre-Health journeys. Styliana now serves as the PHMI Mentee/Mentor Relations Coordinator and is excited to help further build the mentee/mentor relationship. She is also looking forward to collaborating with the team to expand and strengthen the PHMI community!
Alba Trepca: PHMI Social Media Director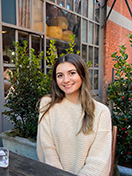 Alba Trepca is a Hunter junior majoring in Human Biology on a Pre-PA track. She joined PHMI as a mentee during her freshman year and has been serving as a mentor since the spring semester of her sophomore year. She recently joined the PHMI board as our Social Media Director and handles our social media pages (@PHMIhunter on IG and the facebook group PHMI at Hunter College). Alba also has the privilege of interviewing our mentor applicants and our Humans of PHMI candidates! Through PHMI, Alba was able to complete her freshman year with a wonderful mentor who guided her through the transition into college as a Pre-Health student. As a member of the PHMI board, Alba hopes to gain more outreach of the program so that more Hunter students can have that same guidance navigating through their Pre-Health journey.
Document Actions