About PHMI
The Pre-Health Mentoring Initiative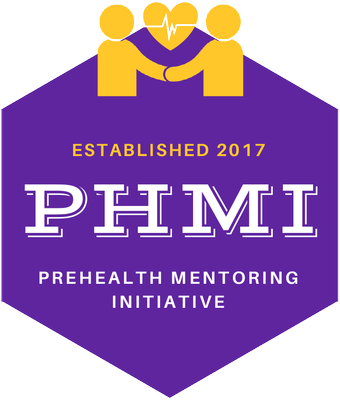 Follow us on Instagram
Join our Facebook group
Please direct any questions to: phmihunter@gmail.com
---
Pre-Health Mentoring Initiative
The Pre-Health Mentoring Initiative (PHMI) connects current upper-class Pre-Health students who have successfully completed some or all of their Pre-Health required courses with freshmen and first-year transfer students seeking guidance or extra support as they acclimate to Hunter College and the Pre-Health track. Founded by former Post Baccalaureate Certificate students, Megan Nye and Shlomo Small, in collaboration with Kemile Jackson, the Pre-Health Program Director, PHMI serves to complement the advising services offered by adding the perspective and value of accomplished Pre-Health students.
How PHMI Works
Mentors
Mentors (current upper-class Pre-Health students), meet 1-on-1 with their Mentees on a monthly basis for one academic year. Mentor/Mentee discussions may include anything Mentees are curious about, including but not limited to:
How to choose courses
How to study and test-taking strategies
How to become a competitive Pre-Health applicant
How to network for clinical and research opportunities
How to obtain recommendation letters
…and so much more!
Mentors are active students in the Pre-Health Program and are expected to stay up to date on all Pre-Health requirements.
Mentees
Incoming freshmen and transfer students are paired with an upper class Pre-Health Mentor based on common interests, goals, and pathways. Students who have a Pre-Health Mentor tend to perform better in their classes as they are guided to more resources. Also, students with Mentors generally are more confident in choosing classes and navigating their Pre-Health career.
To participate as a Mentee you must:
Pursue a Pre-Health field of study (Medicine, Dentistry, Veterinary Medicine, Pharmacy, Optometry, Physician Assistant, Physical Therapy or Occupational Therapy)
Communicate with your Mentor on a regular basis
Be willing to meet with their Mentor once monthly, virtually or in person on
Hunter's campus
Submit a Program Evaluation once per semester
Maintain a professional relationship with their Mentor
"

My mentor is highly supportive and knowledgeable, and he helped me find more opportunities outside of the classroom and gain more confidence as a pre-health student.

"
"

My mentor was really effective and she was very helpful in my first semester as a pre-health student! She always made an effort to answer all my questions and she became someone I felt comfortable talking to and asking help from. Especially because we share the same major, she has been a key part of helping me put together a future plan with both my major and the program.

"
We hope you will take advantage of this opportunity and become a part of PHMI!
Mentors
PHMI is a great way to build leadership and networking skills. As a PHMI Mentor, you are responsible for guiding your Mentees through a rigorous Pre-Health career. Mentors can also take on the role of a PHMI Ambassador in which they would be able to host mentor training sessions and PHMI events. By giving the gift of Pre-Health mentoring, you are helping to guide students in the preparation for a health career and giving them information that you benefited from in your preparations. Mentoring also provides a great way to give back to your Pre-Health community and earn non-clinical community service hours. The Pre-Health office will award PHMI Mentors with 5 hours of volunteer community service per Mentee at the end of each semester. As a PHMI Mentor, you represent Hunter's diverse and great Pre-Health community.
To be eligible to be a Mentor you must:
Have a minimum cumulative GPA of 3.5
Pursue a Pre-Health field of study (Medicine, Dentistry, Veterinary Medicine, Pharmacy, Optometry, Physician Assistant, Physical Therapy or Occupational Therapy)
Submit a Pre-Health Application and be an active Pre-Health Student at Hunter
Have monthly meetings with each Mentee (a minimum of 2 mentees will be assigned to each Mentor) virtually or in person on Hunter's campus
Provide regular constructive and supportive feedback and communication to each Mentee
Communicate with PHMI if you are unable to reach your Mentees
Submit a Program Evaluation for each Mentee once per semester
Here are some quotes from our past Mentors on how PHMI helped their careers:
"

My mentee is highly motivated and I can easily see him accomplishing anything he sets his mind to. He is intelligent and curious. This, paired with his drive, makes me have no doubts about his ability to conquer Hunter pre-health. I am excited to see all he does.

"
"

My mentee is an amazing student. He works very hard with any task he is given. He survived not just one but two full heavy science course loads in two semesters. He should be very proud of himself and how he has overcome so many virtual learning obstacles during his first year of college. He will be doing great things in the future as a physician assistant!

"
We hope you will join us as a Mentor to build a stronger pre-health student community at Hunter.
Document Actions