Successful Applicants—Veterinary
Successful Applicants to Veterinary Programs
Success Stories by Year of Matriculation
---
---
2020 Matriculants
---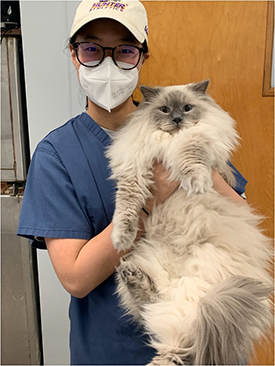 Name: Alexa Magsuci
Major: Psychology
Overall GPA: 3.74
Graduation Year: 2020
Matriculation Year: 2020
Q: Which school will you be attending?
A: University of Pennsylvania–School of Veterinary Medicine.
Q: What drew you to this particular health field?
A: As many of my family are nurses, I grew up always thinking I was going to become a nurse as well. However, I decided I wanted to become a veterinarian when I took an animal behavior class in my senior year of high school. Part of the class was held at the Bronx Zoo every other week and the other part involved taking care of the animals in the classroom; it was then that I realized I was fascinated with studying animals.
Q: What extracurriculars did you participate in?
A: I worked as a dogwalker for Wag! Co. and as a veterinary assistant at the Animal Medicine and Surgery of Little Neck Veterinary Hospital. I also volunteered at the Animal Haven Shelter, the New York Aquarium, and in Hunter's Psychology Department's Electric Fish Lab. I was also a member of the Hunter College Women's Swimming and Diving Team.
Q: How many hours on average did you spend studying for your courses per week?
A: It varied.
Q: Did you use a test prep course?
A: No.
Q: Did you take a GAP year? If so, why?
A: No.
Q: What do you consider to be your strengths in your application?
A: Being a Yalow Scholar, a student athlete, and having research experience definitely strengthened my application. Being on the women's swim team for four years shows dedication and strong time management skills. I also took on the role of captain in many senior year showing leadership and reliaibility. Conducting research not only added to my animal experience, but also showed me other fields of working with animals. Having research on my application showed that I was willing to broaden my horizons when it came to experiences and that I understood more aspects of veterinary medicine such as animal welfare.
Q: Did you apply nationally?
A: No, I applied to schools near the East Coast of the U.S.
Q: How did the Pre-Health Advising Office help you achieve your goals?
A: N/A
Q: What advice do you have for others?
A: Being on the pre-heatlh track requires perseverance and resilience. There will probably be many obstacles and many times when you feel like giving up, but if medicine is something you really want to practice, you will find a way to keep going until you reach yur goal. I strongly believe that gaining experience in your respective field will make it or break it when deciding if what you're pursuing is right for you. Finally, never be afraid of asking for help, whether from peers, teachers, or graduates because I personally could not have done it without the immense support that I received on my journey.
If you need any advice on veterinary school applications or in general, please don't hesitate to contact me at alexa.magsuci95@myhunter.cuny.edu!
---
---
Document Actions